May 29th, 2018
Source: http://www.tbv.com.au/yulong-states-it-big-intentions-for-victoria/
Yulong's Mr Zhang Yuesheng has once again confirmed his strong support for Victoria indicating they will stand high-quality stallions in the state in the not too distant future.
In an interview with Thoroughbred Daily News last week, Mr Zhang also outlined plans to expand his broodmare band, already one of the leading bands in the state.
"The Southern Hemisphere is my current focus for breeding, with Australia being the main focus where I currently have 70 mares based on our properties in Victoria," Mr Zhang told TDN.
"While immediately improving on quality rather than quantity, the next few years will see us expanding our numbers here in Australia to approximately 120 mares. I would like to build a nice band of commercial mares that can be bred to some of the leading stallions in Australia and in turn, to offer their top-quality progeny to the market.
He indicated though that sending these mares, en masse, north of the Murray River was not on the businesses' agenda instead preferring to set up his own stallion barns with top-notch commercial stallions.
"The team and I are in the process of developing a breeding facility at Nagambie and we are looking to secure stallions to stand under the Yulong banner in the very near future," Mr Zhang said.
"A large number of mares are sent by Victorian breeders to the Hunter Valley each year to be bred, however, I would like to work towards offering Victorian broodmare owners the opportunity to send their mares to commercial stallions in their home state."
Meanwhile, events and race track performances over the past fortnight have demonstrated the global reach of Yulong.
The weekend before last, Yulong staged the inaugural Yulong Thoroughbred Sale in in Shanxi, China while also hosting its major raceday at its new Yulong Park complex.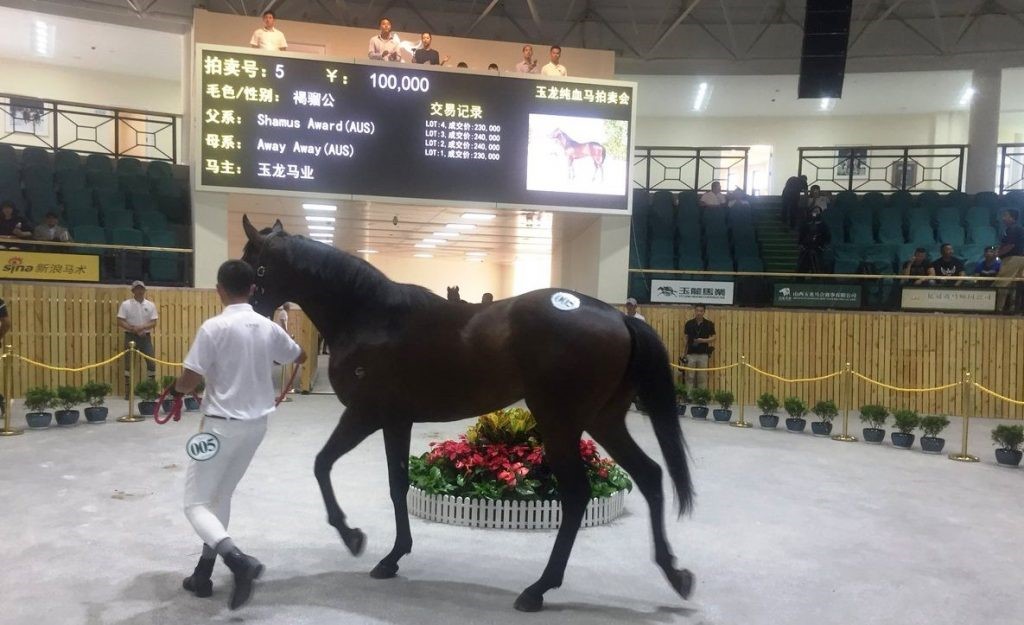 Yulong's inaugural Thoroughbred Auction in Shanxi, China (pic-Inglis)
Yulong owner Mr Zhang Yuesheng hosted a number of Australians attending the weekend's events including representatives from Inglis, Magic Millions and Thoroughbred Breeders Australia. Inglis' Peter Heagney started proceedings at the sale.
71 horses were offered for total turnover of AU$2.6 million with the highest priced Australian-bred horse being an Epaulette x Solar Verde colt which was sold for AU$100,000. The colt was originally bought by to Yulong Investments for $20,000 out of the Phoenix Broodmare Farm at the 2017 Melbourne Premier Yearling Sale. Also among the young horses sold as the Gilgai Farm bred Shamus Award x Away Away colt (pictured).
This past weekend, Yulong owned horses performed with distinction at the Irish Guineas racedays at The Curragh.
Platinum Warrior won the Group 3 Gallinule Stakes while two-year-old Indigo Balance was a winner on debut on Sunday's race card. Notably, the colt is a brother to the Woodside Park shuttle sire Cable Bay with both being sons of Invincible Spirit. A trip to England for a juvenile race at Royal Ascot is likely now for the well-bred colt.